International Festival in Hajnówka
In May 2016, BLAGOVEST attended the 35th International Festival "Hajnowka's Orthodox Church Music Days", which took place in Poland. The Festival happens every year since 1982 and receives various participants – professional, parochial and amateur mixed, male, and female choirs (including juniors). Among other choirs from Poland, Russia, Belarus, Georgia, Romania and Ukraine, BLAGOVEST represented its individual program, which was comprised of the pieces of music by G.Pelecis, A.Shnitke, A.Grechaninoff and other composers. BLAGOVEST took part in this Festival not for the first time: the professional experience of BLAGOVEST includes Hajnówka of 1994, 1998 and 2004.
BLAGOVEST returned home from Poland with two awards: the diploma to the choir for the 1stplace in the category "Academic choirs", as well as the personal award to BLAGOVEST's founder and all-time director Aleksandrs Brandavs as the best conductor! These two awards took their stand in the range of other BLAGOVEST's achievements.
The 36th International Festival "Hajnowka's Orthodox Church Music Days" will take place in Poland during May 8-13, 2017.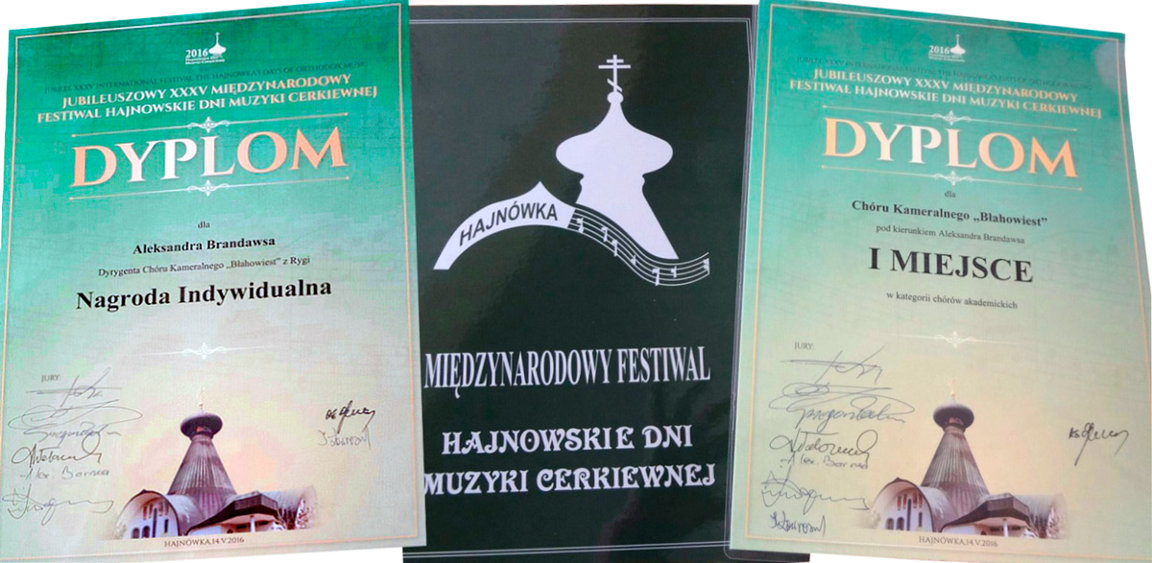 No comments
Leave a reply
About the choir
Riga Orthodox Chamber Choir BLAGOVEST from Latvia was founded in 1990 with an aim to popularize forgotten treasures of Russian sacred music, which makes the most part of the choir's repertoire.
The choir has wide range of interests: from monophonic neumatic chants, called znamenniy raspev, based on Byzantine church music up to contemporary composers' quests of spirituality. Various secular compositions of outstanding Russian, Latvian, and Western composers are included in the choir's repertoire as well. Read more