CONCERT «PEACE PRAYER»
October 8, 2018 at 3:17 pm
On Saturday, 20 October 2018 at 15:00 Riga Orthodox Chamber Choir "BLAGOVEST" and conductor Aleksandrs Brandavs invite to the concert "Peace Payer"
in Riga Cathedral (Riga Dome Cathedral)
.
The concert program will feature compositions by Georgs Pelēcis, Nikolai Golovanov, Alexander Arkhangelsky, Alexander Grechaninov, Alfred Schnittke, Palestrina, Ēriks Ešenvalds and others. The concert takes place within the framework of the International Riga A Cappella Festival, which from 17 to 21 October, already for the sixth year, offers high quality concerts of bright and internationally acclaimed performers of vocal music, promoting a cappella singing in Latvia. The choir "Blagovest" with its programs of sacred music has become regular participant of the Riga A Cappella Festival.
Tickets for the concert are available at the sales points of "Biļešu serviss" /https://www.bilesuserviss.lv/lat/biletes/festivals/visi/miera-lugsana-265265/ and at the box office of Riga Cathedral.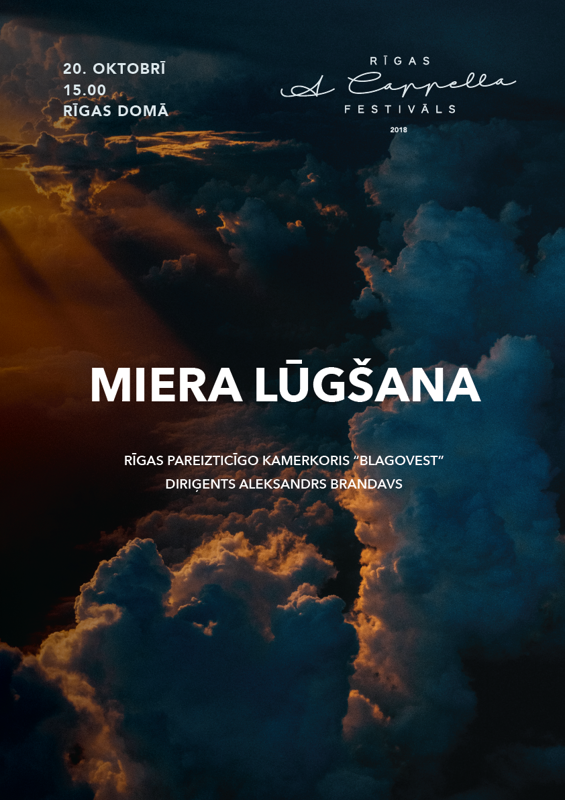 About the choir
Riga Orthodox Chamber Choir BLAGOVEST from Latvia was founded in 1990 with an aim to popularize forgotten treasures of Russian sacred music, which makes the most part of the choir's repertoire.
The choir has wide range of interests: from monophonic neumatic chants, called znamenniy raspev, based on Byzantine church music up to contemporary composers' quests of spirituality. Various secular compositions of outstanding Russian, Latvian, and Western composers are included in the choir's repertoire as well. Read more